CITN Exam Questions on EPS & IAS 23 with simplified Answers – Related matters on this subject matter are the CITN study packs in pdf and the CITN study pack download. The current CITN past questions and answers pdf covers all of these. So, here are CITN taxation past questions and answers both for CITN foundation courses and CITN pathfinder
Professionalmarks.com professional exams info:
People also ask; how do you become a member of the CITN? And that is to say; how can I become a member of the Chartered Institute of Taxation in Nigeria? They also want to know what is CITN induction fee and how to apply for CITN exemption. Among other queries are for CITN login and CITN exams timetable.
CITN Exam Questions on EPS & IAS 23 with simplified Answers
The First Question:
(a) Earnings per share (EPS) is generally regarded as a key accounting ratio for use by investors. However, like any other accounting ratio, it has its limitations.
Required:
Explain the importance of EPS and state three (3) of its limitations. (8 Marks)
(b) Pronto Plc. has 100million ordinary shares in issue throughout the year ended December 31, 2019. The profit for the year was N240million.
The entity has two convertible financial instruments in issue:
(i) N50million 10% loan notes, each N100.00 of stock having the right to convert into 200 ordinary shares.
(ii) 40million convertible N1.00 12½% preference shares. Each preference share is convertible to 2 ordinary shares.
The income tax rate is 30%.
Required:
Calculate the basic and diluted EPS for Pronto Plc. for the year ended December 31, 2019. (7 Marks)
(Total 15 Marks)
CITN Exam Questions on EPS & IAS 23 with simplified Answers
PREFERRED SOLUTION TO THE QUESTION

(a) Earning per share (EPS) is one of the component part of the price earning (P/E) ratio. P/E ratio is used by investors to help them identify the relative risks of an investment. A relatively high P/E ratio usually suggests that the shares are regarded as a safe investment while lower P/E ratio suggests risk and volatility. EPS also measures the potential returns to equity holders in form of dividends and bonus issue.
It can be used to compare and evaluate the EPS of the same entity in different years, that is to evaluate trends in EPS, that of other entities or an industry's average.
The principal weakness of EPS include the following:
(i) EPS is based on accounting figures and can only be as well reliable as these figures;
(ii) Due to the use of historical figures for its calculations, it is of limited use for predictive purpose;
(iii) EPS may not be comparable among entities because number of shares issued is rarely comparable between them;
(iv) Financial statements are prone to manipulation by management, through window dressing; and
(v) Entities often use different accounting bases to treat transactions, hence entities EPS figures may not be comparable.
Calculation of EPS – Basic
Profit before tax N240m
Weighed average number of shares 100m
Basic EPS = 240/100 N2.40/share
(ii) Calculation of diluted EPS
Profit (W1) N248.5m
Weighted average number of shares (W2)                  280m Diluted EPS 248.5/280                     88.75kobo
Workings:
W1 Calculation of profit for diluted EPS
N'm                 N'm
Profit for the period 240
Savings on 10% loan notes (10% x 50m) 5
Tax as savings (30% x N5m) (1.5) 3.5
Savings on preference dividend (12½% x 40m) 5.0
Profit for diluted EPS 248.5
W2 Calculation of number of shares for diluted EPS.
Million
Share for basic EPS 100
Conversion of loan notes (200/100 x 50)               100
Conversion of preference share (40 x 2)                     80 280
CITN Exam Questions on EPS & IAS 23 with simplified Answers
Examiner's Findings:
His findings a that The question tests;
the importance of earning per share (EPS),
its limitations and computation of basic and
diluted earnings per share.
Majority of the candidates attempted the question
Performance was below average.
commonest errors were that majority of the candidates did not clearly demonstrate understanding of the importance and limitations of EPS,
Many could not correctly calculate basic and diluted earnings per share.
Finally, he advises that you pay more attention to the computation and interpretation of ratio analysis. And, that will aid in better performance in future examinations.
CITN Exam Questions on EPS & IAS 23 with simplified Answers
The Second Question:
Youandi Plc. owned a piece of land which it acquired on March 1, 2018 at a cost of N288million. During the year ended January 31, 2020 the company constructed a new factory on the land. The construction was financed from the pool of existing borrowings. Construction began on May 1, 2019 and was completed on October 31, 2019 at a cost of N432million. The factory was available for use from that day although production did not start until November 2019. The useful life of the factory has been estimated to be 50 years.
Throughout the year, the company's average borrowings were as follows:
Amount
Interest Rate
N'000
Bank Overdraft
160,000
9.75
Bank Loan
280,000
10.0
Bonds
400,000
8.0
Required:

(a) Outline the core provisions of IAS 23, Borrowing Costs. (7 Marks)
(b) Explain the accounting requirements of the issues in Youandi Plc., with relevant calculations for the year ended January 31, 2020, and the carrying amount of the factory as of January 31, 2020. (8 Marks)
(Total 15 Marks)
CITN Exam Questions on EPS & IAS 23 with simplified Answers
REQUIRED SOLUTION TO QUESTION

(a) According to IAS 23 borrowing cost may be capitalized during the acquisition, construction or production of a qualifying asset. A qualifying asset is any asset which takes a substantial period of time to get ready for its intended use or sale. Borrowing costs include fees, transaction costs and amortization of discount or premium relating borrowing costs. Directly attributable costs may be capitalized if incurred during the capitalization period on qualifying assets.
The capitalisations commence when the borrowing costs have been incurred, expenditure on the asset has been incurred and construction activities have commenced.
The capitalisation of borrowing costs is suspended where there is an extended period of delay in the construction work.
The capitalisation ceases when the asset is substantially ready for its intended use or sale. The borrowing costs of funds borrowed specifically to obtain qualifying asset is the actual borrowing cost incurred less investment income on temporary investment from those borrowings.
When an entity uses general borrowing to obtain qualifying asset, the capitalisations rate is the weighted average of the borrowing costs of the entity.
(b) The borrowing cost relating to the construction of the building is qualified for capitalization. The capitalization rate is the weighted average cost of the borrowed funds. The borrowing costs eligible for capitalization is that incurred from May 1, 2019, to October 31, 2019, when the construction took place.
The asset is ready for use on October 31, 2019 hence depreciations would be calculated from that date.
CITN Exam Questions on EPS & IAS 23 with simplified Answers
The relevant calculations:
Weighted average cost of borrowed funds
Amount
Interest rate
Total
N'000
N'000
Bank overdraft
160,000
9.75%
15,600
Bank loan
280,000
10%
28,000
Bonds
400,000
8%
32,000
840,000
75,600
Capitalisation rate
75,600 x 100% = 9%
840,000
840,000
1
Cost of asset
N'000
N'000
Land
288,000
Building
432,000
Borrowing cost (9% x 432m x 6/12) 19,440
451,440
739,440
Depreciation (3/12 x 451.4m x 1/50)
-2,257
Carrying amount
737,183
CITN Exam Questions on EPS & IAS 23 with simplified Answers
EXAMINER'S FINDING:
That the question tests the provisions of IAS 23 – Borrowing costs,
The accounting treatment and
Calculations of interest on the amount of borrowed costs.
Few candidates attempted the questions
Performance was below average.
The common errors were inability to demonstrate clear understanding of the provisions of IAS 23.
Candidates are advised to pay more attention to the provisions of all accounting standards in the syllabus
To work hard for better performance in future examinations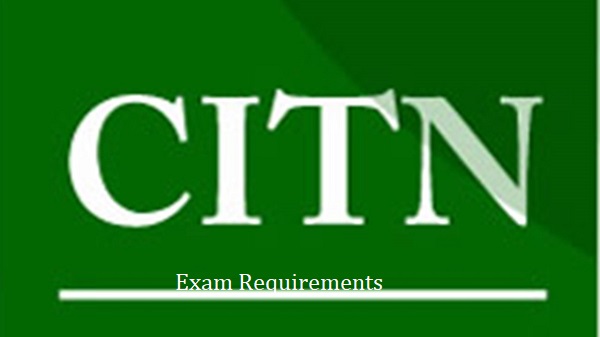 RELATED POSTS:
Summing Up:
Finally, on CITN Exam Questions on EPS & IAS 23 with simplified Answers. professionalmarks.com offers you a whole lot of professional tips, Career & Training, and Secondary, and Tertiary education information. We offer you information on professional membership professional certificates in Nigeria and globally. On our website is a list of professional membership organizations in Nigeria and other countries. professionalmarks136@gmail.com