Approved Short-term Certificate Courses In Nigeria – These are stimulants to your career. Avail yourself of the opportunity of any of these Short Term Certificate and Diploma Programs some of which are Online to Learn for Free.
Best online courses for jobs. Short online courses with certificate free. short-term certificate courses in management, Tech, IT, Estate Management, Business Plan writing, and many more. Just read on for more.
You will learn about Nigeria's short certificate programs and what each one entails in this article.
One of the best ways to get a good job is to earn certificates and knowledge from professional short courses. Short courses are a great way to learn new skills or brush up on ones you already have.
People look for available short courses for a variety of reasons, including their desire for self-improvement and preparation for higher education. Taking short professional courses in Nigeria will benefit you in so many ways, regardless of the reason you choose to take them. Some people take these short courses to improve their skills to advance in their careers, while others do so to increase their knowledge and improve the appeal of their resumes to potential employers to increase their chances of landing a better job.
Also, students who haven't been accepted into a university or college of education yet can take these professional short certificate courses in Nigeria to increase their chances of getting in and succeeding in the long run.
Professionalmarks.com Career Info:
Professionalmarks.com gives out free career tips. These cover recruitment and scholarship opportunities. It also offers tips on the online certificate and diploma programs which cover a wide selection of business disciplines. We ensure that these re Best Job-Oriented Short Term Courses that enhance your career. You can also get more information about the JAMB, WAEC, NECO, GCE, and NABTEB examinations for both internal and external candidates.
Approved Short-term Certificate Courses in Nigeria
Read carefully as we guide you through these classes to improve your skills.
Chartered institute of personnel management (CIPM)
Nigeria's Chartered Institute of Personnel Management was established in 1968. Chartered institute of personnel management was formerly known as the Association for Practitioners of Personnel Management when it was first established.
This organization adds value to personnel managers who are already certified and intend to become personnel managers by awarding certificates to individuals who have successfully completed their professional personnel management training programs.
Who can take part? SSCE, ND, HND/BSC holders
Chartered institute of marketing of Nigeria Certification (CIM)
Marketing and mass communication specialists, general managers, chief executive officers, sales and marketing directors, customer service managers, relationship directors, media planners, channel developers, creative directors, value builders, and brand builders, among others, belong to this professional marketing body.
Get certified by this professional body to gain an advantage in your field. You can get this professional certificate regardless of your field as soon as you meet the minimum requirements.
Certified pension institute of Nigeria Certification (CPIN)
A national institute, the certified pension institute of Nigeria is in charge of retraining and training professionals in the field of pensions in Nigeria.
This institution's founding principle was to foster dialogue, cooperation, and educational opportunities by bringing together benefit administrators and other interested groups.
There is a good chance that you will gain real-world experience of the challenges you will face. You can enroll in their certification program and become certified by this body, which will improve your resume regardless of your field.
Center for law and business certification
People who want to become business managers, layers, and leaders can get the training they need at the center for law and business certification.
The short-term certification program, which demonstrates the individual's mastery of business thinking, business law competency, and practical experience in a business context, must have been completed before this certificate can be issued.
Business education exams council certification
A certification issued by this body will expedite both your employment and promotion. Employing people with this certification preferred by business owners. Short courses for professionals Private business owners can also take part in their training, which will help them gain more business experience.
This Nigerian organization of chartered professional accountants is authorized by law to instruct and examine all of its students. Participating in this will increase your chances of promotion and improve your employability, making it a must-do for any accountant or accountant-in-training.
This certification program is open to graduates of any HND or BSc program. It typically takes approximately three years to complete this training.
Nigeria institute of estate surveyors and values
In 1969, a group of UK-trained qualified general practice chartered surveyors established this organization.
Since its recognition by the government in 1975, the organization has trained and certified numerous surveyors and valuers. You can participate in their short-term program as a graduate and earn certification, which will improve your employment prospects.
Thirteen years after successfully operating as a local center, this organization was founded in 1963 and registered as the Institute of Bankers in 1976. As a result, it is their responsibility to issue the CIBNG certificate to their participants in various programs.
Another body that issues certificates is this one. The Association of Tax Administrator and Practitioners was the initial name of Nigeria's chartered institute of taxation, which was established in 1982. By earning the CTIN certification, tax professionals can increase the value of their certificates.
By contacting the Institute of Chartered Accountants of Nigeria (ICAN), one can pursue a career as a professional accountant. Applicants with an ICAN certificate are more likely to be hired by many financial institutions than those with only a BSc or HND. As a result, after completing their short-term course, graduates can receive certification from this organization.
Chartered institute of bankers
Another organization for bankers to join. Employers typically prefer holders of this certificate over those with only a B.Sc. because they have received better training. Therefore, you could do yourself a favor by participating in this organization and receiving certification.
Association of general and private medical practitioners of Nigeria certification (AGPMPN)
This is a group that covers all medical professionals. The association of general and private medical practitioners in Nigeria, which includes dental and all medical doctors who are either owners or employees, was established in 1921.
By earning the AGPMPN certificate, you can advance in your medical career.
Oil and gas trained services limited
This indigenous oil and gas institution gives people who want to work in this industry good training. By participating in their training programs, you can gain certification from this body and receive high-quality training, increasing your employment prospects.
Financial risk management ( Approved Short-term Certificate Courses In Nigeria)
Do you plan to work for a financial institution or have you completed any financial education courses? If you get this certificate, you'll be doing yourself a favor by improving your resume and increasing your chances of finding work.
Health safety environment
Safety, according to popular belief, comes first. There is currently no business in the world that does not require a safety certificate, so this course is mostly intended for undergraduates and graduates of engineering and environmental science. Take this professional course right away to set yourself apart from others in your field.
Project management professionals (PMP)
This is yet another professional course that anyone, no matter what they do, can take. Be certified as a project management professional by receiving training from experts in the field. It can typically take up to six months or longer to obtain this from an accredited institution.
Institute of management technology certification
This organization grants management certificates to qualified individuals, typically graduates who enroll in their short-term management courses.
It really doesn't matter what field you're in as long as you meet the minimum requirements to apply. You can take any of their management courses if you have a ND, HND, or B.Sc., which will help you get a job.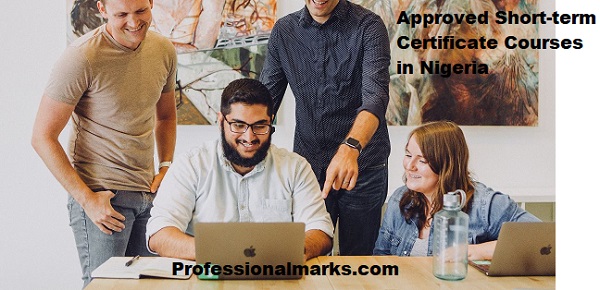 Human resources management certification (HR)
The purpose of the human resources management course is to provide participants with a fundamental understanding of the requirements for efficient practice. Things that are relevant to real life will be covered in the training you receive.
incredibly important to have as a graduate or SSCE holder.
West African college of physicians certification
Since its inception in 1976, the organization has engaged in adequate training to educate highly qualified physicians. Graduate or undergraduate short-term training programs are available to those who want to earn their certification.
Certified cost engineering consultants
This organization helps professionals all over the world. In the field of cost engineering, the AACE certification is an excellent mark of distinction.
Read Also these related topics: Approved Short-term Certificate Courses In Nigeria
Summing Up:
We have considered a lot of Approved Short-term Certificate Courses In Nigeria. They are the types that will elevate your status class very soon. For more of these and other professional tips follow us on our social media handles and ensure you bookmark this page for future updates.