Do you want to become a certified ethical hacker?- In the beginning, the term "hacker" was used to refer to a skilled programmer who was familiar with computer operating systems and machine code. Today, a person is considered to be a "hacker" if they regularly engage in hacking activities and have accepted hacking as their preferred way of life and philosophy. The act of altering a system's features for a purpose other than the intended one is known as hacking.
The Certified Ethical Hacker (CEH) credential is issued by the EC-Council. This credential is earned by demonstrating knowledge of assessing the security of computer systems by looking for weaknesses and vulnerabilities in target systems, employing the same skills and equipment as a malicious hacker but lawfully evaluating the security posture of a target system. This knowledge is evaluated by responding to multiple-choice questions about various ethical hacking tools and methods. The CEH test has a code of 312-50. The candidate must now demonstrate their ability to apply techniques and use penetration testing tools to compromise a variety of simulated systems within a virtual environment in order to pass the CEH (Practical), which was introduced in March 2018 and is a test of penetration testing skills in a lab setting.
In order to discover and address security flaws, businesses employ ethical hackers to break into computer networks and systems. The EC-Council also offers the Certified Network Defense Architect (CNDA) certification. Members of selected agencies, including some private government contractors, are the only ones eligible to receive this certification, which is primarily in accordance with DOD Directive 8570.01-M. It is also recognized as GCHQ Certified Training (GCT) and is accredited by ANSI. Read more about Do you want to become a certified ethical hacker
PROFESSIONALMARKS.COM CAREER TIPS:
Professionalmarks.com contains a ton of information regarding careers. Moreover, details regarding both internal and external applicants for the JAMB, WAEC, NECO, GCE, and NABTEB examinations are also shown. In addition, we provide services for CITN and ICAN. if you're looking for genuine professional career courses with outstanding pay. You can discover everything you need for career growth in Nigeria on Professionalmarks.com.
Do you want to become a certified ethical hacker?
Let's learn more about the role before we talk about how to become an ethical hacker.
Ethical hacking is what?
Until the role of an ethical hacker fully understood, the term "hacking" has very negative connotations. The "white hat"-wearing ethical hackers are the good guys in the hacking world. So, What does an ethical hacker actually do? Rather than involving their high-level PC information for odious exercises, moral programmers recognize shortcomings in information PC security for businesses and associations across the globe, to shield them from programmers with less fair thought processes.
Before we talk about how to become an ethical hacker, let's talk about the career of ethical hacking.
The job of an ethical hacker is to legally breach a system's security to find potential threats and data breaches on the network, which is a subset of cybersecurity. Ethical hackers can work for a company as simulated offensive cybersecurity specialists, as independent contractors, or as in-house security guards for a company's website or apps. Although an in-house ethical hacker may only need to be well-versed in a specific class of software or digital asset, all of these career options require an understanding of current attack techniques and tools.
Do you want to become a certified ethical hacker
What Attracts People to a Career in Ethical Hacking?
A career in ethical hacking can be enticing if you are a professional who enjoys a challenge and appreciates the joys of the computer world. You have the chance to use your skills to break into computer systems and get paid well for it. In the same way as other vocations, it isn't difficult to get everything rolling in the field, however, if you set forth the energy, at first, you will want to shape an extremely rewarding profession for yourself. Furthermore, ethical hackers are never in trouble with the law!
Do you want to become a certified ethical hacker?
10 Steps to Becoming an Ethical Hacker
Step 1: Get your hands on LINUX/UNIX
The open-source operating system LINUX/UNIX improves computer system security. Since Linux is one of the most widely used operating systems for hacking, you should be well-versed in it as an ethical hacker. It gives hackers a lot of tools. Red Hat Linux, and Ubuntu, Just a few examples include BackTrack, Kali Linux, and other well-known Linux distributions.. Kali Linux is the most widely used of these, and it was developed specifically for hacking.
Step 2: Choose the Mother of All Programming Languages – Do you want to become a certified ethical hacker
C is referred to as the Mother of All Programming Languages because it is one of the simplest programming languages. Because this operating system is entirely written in C, this programming language serves as the foundation for learning UNIX/LINUX. As a result, hackers need to master C programming to use the open-source operating system Linux in the way they want.
To gain an advantage, try learning multiple programming languages. A piece of code can be dissected and analyzed by an ethical hacker with solid knowledge of two to three programming languages. The following programming languages are among the best for hackers:
Python: Utilized extensively for exploit scripting
JavaScript: is suitable for web application hacking
PHP: aids in the fight against nefarious attackers
SQL: Best for breaking into large databases
Do you want to become a certified ethical hacker?
Step 3: Learn the Art of Being Anonymous
The most crucial step in ethical hacking is to learn how to remain anonymous online and conceal your identity so that no one can trace you back. Ethical hackers frequently do not know who else is in the same network, whereas Black hat hackers may attempt to hack their system if they discover that someone else is in the network. Thus, ethical hackers also require anonymity. Utilizing Anonsurf, Proxychains, and MacChanger are the three most encouraging ways of protecting your personality. Do you want to become a certified ethical hacker
Step 4: Be Well-versed in Networking Concepts – Do you want to become a certified ethical hacker
Ethical hackers need to know about networking concepts and how they re made. When it comes to exploiting vulnerabilities, having a solid understanding of various networks and protocols is beneficial. The challenges in the field can be overcome by an ethical hacker who is well-versed in networking tools like Nmap and Wireshark. Some important ideas in networking are:
TCP/IP Network
Subnetting,
Network Masks, and CIDR
Server Message Block
Domain Name Service (DNS),
Address Resolution Protocol,
Wireless Networks,
Bluetooth Networks,
SCADA Networks (Modbus),
Automobile Networks (CAN)
Step 5: Traverse the Hidden Web
The dark web refers to the portion of the internet that remains hidden or is not visible to search engines. Access is restricted by special authorization or software. The dark web can be accessed through Tor, a browser that protects users' identities. The dark web is the epicenter of criminal activity, but not everything is illegal. It also has a good side, and ethical hackers need to understand how the dark web works.
Step 6: Make Secret Writing a Part of Your Skill – Do you want to become a certified ethical hacker
Set Cryptography, also known as secret writing, is a crucial skill for an ethical hacker. Hacking necessitates mastery of encryption and decryption techniques. Authentication, data integrity, confidentiality, and other aspects of information security all benefit from encryption. Passwords re an example of valuable data that are always encrypted on a network. A hacker needs to know how to find and break encryption.
Do you want to become a certified ethical hacker?
Step 7:dig deeper into hacking
Learn about SQL injections, penetration testing, vulnerability assessment, and more as you delve deeper into hacking concepts after you have thoroughly covered the previous topics. Keep up with the most recent system security updates, hacking tools, and methods for securing a system.
Step 8: Investigate Vulnerabilities – Do you want to become a certified ethical hacker
Vulnerabilities are system flaws or gaps. Learn how to scan networks and systems for security vulnerabilities. Additionally, ethical hackers may attempt to exploit the system by writing their vulnerabilities. Some weaknesses distinguishing proof devices in the Kali Linux operating system are as per the following:
Scanner for Nessus Vulnerabilities: Identifies vulnerabilities in multiple systems and web applications
OpenVAS Vulnerability Scanner: Identifies flaws on network-connected devices
Nikto Vulnerability Scanner: acknowledges web server vulnerabilities
Nmap Vulnerability Scanner: Identifies vulnerabilities in multiple targets
Wapiti Vulnerability Scanner: identifies problems with web applications like XSS and SQLi
Step 9: Hacking Success Requires Experimentation and Practice
Experimentation and practice are essential. Ethical hackers must put their newfound knowledge into practice in a variety of settings and situations. Test a variety of tools, attacks, and more. Do you want to become a certified ethical hacker
Step 10: Engage in discussions and meet experts – Do you want to become a certified ethical hacker
Hackers Join a community or a forum to discuss hacking issues with other hackers around the world and collaborate with them. On platforms like Telegram, Facebook, Discord, and others, there are numerous communities.
Do you want to become a certified ethical hacker?
How does a career in ethical hacking progress?
If you want to start a career as an ethical hacker, you need to learn to be patient. You can't anticipate getting an outstandingly high positioning position and procuring an enormous compensation right all along, however, there is gigantic potential to accomplish both in a limited capacity to focus time!
Starting – Do you want to become a certified ethical hacker
A lot of ethical hackers get their start by getting a degree in computer science. You can also get the CompTIA A+ certification, which requires you to take and pass two separate exams. These tests assess a person's ability to disassemble and reassemble a personal computer as well as their knowledge of its components.
You must have at least 500 hours of practical computing experience to take the qualification test. You can anticipate a yearly salary of $44,000 on average at this point in your career. However, you must acquire experience and a Network+ or CCNA certification to advance in your career. The management, installation, maintenance, and troubleshooting aspects of networks are all validated by the Network+ certification. The same skills and objectives at foundation-level expertise re guaranteed by the CCNA certification.
Network Support
Once you have the necessary qualifications, you can move on to the next phase of your career, which is network support. You'll be doing things like monitoring and updating, installing security software, and testing for vulnerabilities here. You should aim to land a position as a network engineer after gaining experience in network security.
Engineer in the Network
After gaining experience in network support, you can anticipate earning between $60,000 and $65,000! Instead of just supporting networks, you will now design and plan them. From this point forward, your excursion towards turning into a moral programmer ought to have you focus on the Security viewpoint. This is the time to work toward earning a security certification, such as Security+, CISSP, or TICSA, for instance. The US Department of Defense approves the Security+ accreditation, which entails testing on crucial topics like access control, identity management, and cryptography. Do you want to become a certified ethical hacker
The CISSP is a security certification that demonstrates expertise in cloud computing, application development, and risk management. The TICSA certification examinations cover the same topics and aim to assess the same level of security comprehension. You should be able to get a job in information security with this experience and certification.
Working in information security – Do you want to become a certified ethical hacker
is a big step toward becoming an ethical hacker because you'll be dealing with information security for the first time! The typical salary for this position is $69,000. Security breaches are addressed by an information security analyst, who also works toward the implementation of security measures. You should focus on penetration testing for this position to gain practical experience with some of the industry's tools. Do you want to become a certified ethical hacker
You should aim to earn the Certified Ethical Hacker (CEH) certification from the International Council of Electronic Commerce Consultants (the EC Council) at this point in your career. Also, You will learn everything you need to know to become an effective and ethical hacker in the training you receive. Furthermore, You will be taken through the process of hacking into a network and locating any existing security issues in a hands-on setting that will completely immerse you. You can begin advertising yourself as a professional ethical hacker once you have this certification.
Do you want to become a certified ethical hacker?
How to Acquire Zero Experience as an Ethical Hacker?
If you don't know anything about computer science, getting a degree is the best way to become an ethical hacker. You can:
Obtain certification in information technology security,
enroll in a four-year computer science school, or
enroll in a two-year program that focuses specifically on information technology analysis and security.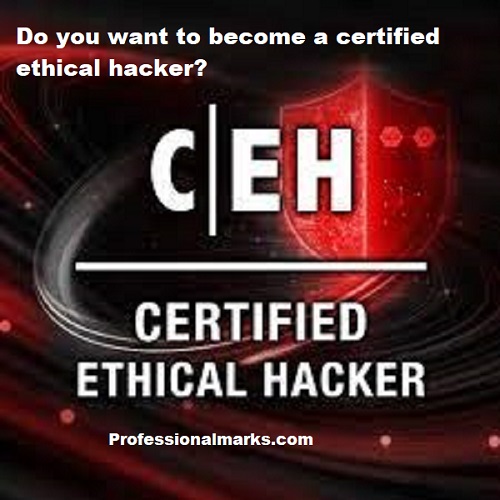 What Instruments Do Moral Programmers Utilize?
The following is a list of some of the most widely used ethical hacking tools:
Nmap: a tool for network investigation and security scanning. used to locate network hosts and services as well as security flaws. – Do you want to become a certified ethical hacker
Wireshark: a packet analyzer with applications in software development, network analysis, and other fields.
Metasploit: an instrument for determining vulnerabilities and checking the security of systems.
Suite Burp: It is utilized to find flaws in web applications.
Kali Linux: is a Linux distribution that is based on Debian and has a lot of tools for security and penetration testing.
Do you want to become a certified ethical hacker?
READ ALSO:
CONCLUSION: Do you want to become a certified ethical hacker
We at professionalmarks.com offers you information on career choices. these are all you need to know, Do you want to become a certified ethical hacker? read the content to able to understand more on been an ethical hacker.  After that, stay in touch with us. Furthermore, bookmark this page for later use. Also, follow us on social media. for further updates.Now, bookmark Do you want to become a certified ethical hacker