Items To Bear In Mind During NYSC – With the Joy you have upon receiving your National Youth Service Corp (NYSC) call-up letter, preparation for the three weeks orientation camp becomes your number one and necessary occupation that leaves you thinking most of time.
Professionalmarks.com NYSC info:
Professionalmarks.com provides you with all information about NYSC and careers in Nigeria. These careers have to do with secondary and tertiary school career information. Also, there is info on NYSC for Graduates
Items To Bear In Mind During NYSC
Firstly.
What are the important things that I must include?
What items can I possibly take and the one I can overlook?
What items should I purchase before coming to camp considering that prices of some needful things are usually jacked up in camp?
However, these are some of the questions that you might ask yourself.
Compulsory Items to Take To NYSC Camp
Items of relevance that will aid you in successfully completing all the registration processes in camp are mentioned below. These items are important so as to enable you to get all your benefits including your allowance, medical attention, mattress, bed space, your NYSC kits, and the rest.
Below is a comprehensive list of compulsory items you will need.
NYSC Call-up Letter (Original and photocopies).
This is very important as it provides proof that you are a prospective copper and not impersonating somebody else. Don't laminate your letter to avoid embarrassment.
School Identity Card (original and photocopies).
This is also evidence that you were a student of the institute indicated on your certificate.
Certificates or Statement of Result (original and photocopies).
These carry your Certificates for the course you studied.
Passport photographs.
copies are required and the manner in which it should be will be recommended. Do well to print as much as possible copies.
Certificate of fitness (original and photocopies) from a government-approved hospital indicating your recent health status.
Bank details. BVN and account details.
Items To Bear In Mind During NYSC
List of important Items to take to NYSC Camp
Note that: These items may not be compulsory but are important to reduce the burden of your daily camp schedules and activities.
Curriculum Vitae. Sometimes, Employers come over to camp to advertise their jobs or scout for corpers to work for them. A prepared CV becomes necessary and handy at this point.
File Jackets to neatly hold your original and photocopied document. Also from tearing
Stationery. These are your closest needed items and are compulsory and needed for registration. They obviously include Pen, jotter, Stapler, staple pins, paper glue, and White-out.
Round Neck White T-Shirt. However, these are among the items which are given as your NYSC kits in camp
However, it is advisable to have extras that can take you for a week.
White shorts. Extras of these are needed too since you would be wearing them almost all the time during your orientation.
Plain white tennis shoes are among the frequently used items necessary for those early morning activities.
White socks are needed items too.
Underwear that is enough for your stay in camp.
Provisions: Buying provisions when coming is needed. such as cereals, chocolate beverages, milk, Garri, etc.
Toiletries. These include a toothbrush, toilet paper, toothpaste, bathing soap, sponge, body cream, disinfectants, sanitary towel and light make-up accessories, ( for ladies), pegs, a few cloth hangers, Detergents, and antiseptics such as Dettol, bathing soap, small face mirror, towel, and comb.
Treated Mosquito net. Malaria is very common in most areas you reside in and may not be entirely mosquito-proof.
Items To Bear In Mind During Nysc
However, it is necessary to have a treated mosquito net.
Money. Cash is very important in camp. Avoid having excess than you may require.
Waist Pouch. it is necessary to have it around the camp while you engage in various activities.
Flashlights would always be your friend in the dark.
Phone Charger. It is important to have this otherwise you will find it difficult to charge.
Phone Battery. if is possible come with an extra battery so u can always be in touch
Padlocks. You will need small and strong padlocks for your travel bags for other security concerns.
Bucket. Buckets would be needed for bathing and washing clothes.
Detergent: A dishwashing agent would be necessary for washing your food flask, drinking flask, cup, and spoon.
Rubber slippers for indoor wear and engaging in activities that wet your feet.
Bedding. These include bed items such as your bed sheets, pillowcases, Pillow, Wrappers, or Blanket.
Hand sanitizer. This item is needed for hygiene purposes and to reduce your chances of getting infections.
Medical kit. Chances of falling ill increase during your stay in camp because your body is introduced to various elements it's not used to.
Dish set would include a food flask, a spoon only, a drinking flask, or a cup.
These are the necessary things you need to consider when preparing for Nysc.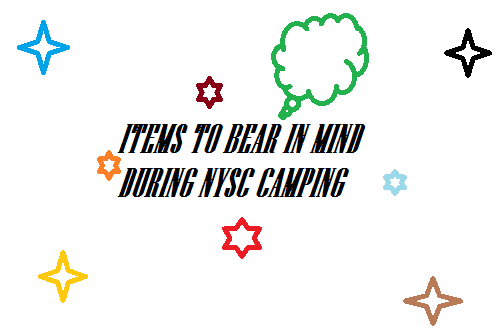 Items To Bear In Mind During NYSC
Read Also:
Finally,
Items To Bear In Mind During NyYSC – All these items are to be gotten to enable your stay in camp. For now, bookmark this site for more information