PDTF Scholarship Scheme: The Approved OSS Universities & Countries – Here are the list of the Approved OSS Universities & Countries. OSS means Overseas Scholarship Scheme for the management of the Petroleum Technology Development Fund (PTDF).
For PDTF Scholarship Scheme approved OSS Universities & Countries, it's important you find out in this post the scholarship list and scholarship monthly stipend. Find out also about the list of approved courses for PTDF scholarship.
PTDF Scholarship:
The Petroleum Technology Development Fund (PTDF) is the Federal Government agency with the mandate of developing indigenous human capacity and petroleum technology to meet the needs of the oil and gas industry. As a matter of fact, the scheme was developed to offer candidates the opportunity to benefit from a diversified pool of knowledge and the facilities offered by world-class institutions across the globe. Under this program, candidates are invited to apply for specific programs at the PTDF partner institutions.
Furthermore, is that the award includes the provision of flight tickets, payment of health insurance, payment of tuition and bench fees (where applicable), In addition, are provision of allowances to meet the costs of accommodation and living expenses.
Notes for Interested applicants:
For certain year's program, applications will be limited to PTDF partner universities in the United Kingdom, Germany, France, and Malaysia. In most case this is where it feels the scholarship's high standards can be maintained and the objectives of the scheme realized.
PDTF Scholarship Scheme: The Approved OSS Universities & Countries
Scholarship Professional Tips:
Professionalmarks.com offers you every information about scholarship awards in Nigeria and internationally. Information on such scholarship awards like SEPLAT Scholarship, NLNG Scholarship, Jim Ovia Scholarship, NLNG Undergraduate Scholarship, Guinness Scholarship and Agbami Medical and Engineering Scholarship are covered in this site. Contact professionalmarks136@marks for queries.
Furthermore, on PDTF Scholarship Scheme: The Approved OSS Universities & Countries, Professionalmarks.com gives detailed information about student Visas and international school admissions. Then are information about international students job opportunities on the campus and outside campuses.
The Approved OSS Universities & Countries:
This list is very comprehensive. Therefore, go through and make your choices. Each institution and country are listed below.
1 Université de Pau et Pays de l'Adour France
2 Université de Grenoble Alpes Grenoble INP France
3 Université de Cergy-Pontoise France
4 University Paul Sabatier, Toulouse III France
5 University Paul Sabatier, Toulouse III France
6 University of Stuttgart Germany
7 University of Strathclyde United Kingdom
8 University of St Andrews United Kingdom
9 University of Southampton United Kingdom
10 University of Siegen Germany
11 University of Sao Paulo Brazil
12 University of Salford United Kingdom
13 University of Rennes 1 France
14 University of Reims Champagne-Ardenne France
15 University of Portsmouth United Kingdom
16 University of Picardie France
17 University of Passau Germany
18 University of Paris-Saclay France
19 University of Oldenburg Germany
20 University of Nottingham Malaysia Malaysia
21 University of Nottingham United Kingdom
22 University of Manchester United Kingdom
23 University of Lyon 1 France
24 University of Lyon France
25 University of Liverpool United Kingdom
26 University of Koblenz-Landau Germany
27 University of Göttingen Germany
28 University of Glasgow United Kingdom
29 University of Dundee United Kingdom
PDTF Scholarship Scheme: The Approved OSS Universities & Countries
30 University of Dortmund Germany
31 University of Cologne Germany
32 University of Caen Normandy France
33 University of Birmingham United Kingdom
34 University of Bedfordshire United Kingdom
35 University of Aberdeen United Kingdom
36 University College London United Kingdom
37 Universiti Teknologi PETRONAS Malaysia
38 Universiti Teknologi Malaysia Malaysia
39 Universiti Sains Malaysia Malaysia
40 Universiti Putra Malaysia Malaysia
41 Universiti Malaya Malaysia
42 Universite Paris 1 Pantheon Sorbonne France
43 Universite Bourgogne Franche-Comte France
44 Universitat Leipzig Germany
45 Universitat Duisburg-Essen Germany
46 Ulm University Germany
47 TUM Germany
48 Tuebingen University Germany
49 TU Ilmenau Germany
50 TU Clausthal Germany
51 TU Berlin Germany
52 Trier University Germany
53 Technische Universität München Germany
54 Technische Universität Kaiserslautern Germany
55 Technische Universität Chemnitz Germany
56 Technische Universität Bergakademie Freiberg Germany
57 Technische Universitat Darmstadt Germany
58 Technische Universitat Braunschweig Germany
59 Technische Hochschule Koln Germany
60 SRH Berlin University of Applied Sciences Germany
61 Skema Business School France
PDTF Scholarship Scheme: The Approved OSS Universities & Countries
62 Sciences Po Paris (Political Science, Law and Business) France
63 Ruhr University Bochum Germany
64 Rostock University Germany
65 Robert Gordon University United Kingdom
66 Polytechnique Palaiseau France
67 Northumbria University Newcastle United Kingdom
68 Newcastle University United Kingdom
69 Muenster University Germany
70 Management & Science University Malaysia
71 Ludwig Maximilians University, Munich Germany
72 LMU Munich Germany
73 Kings College London United Kingdom
74 Kiel University Germany
75 Karlsruhe Institute of Technology Germany
76 Justus Liebig University, Giessen Germany
77 Institute of Neuroscience, Aix-Marseille University France
78 Institute National Polytechnique (INP) Toulouse France
79 Institut Supérieur d'Électronique de Paris (ISEP) (Electronics) France
80 Institut Polytechnique De Paris France
81 Institut national des sciences appliquées Centre Val de Loire (INSA CVL) France
82 Institut National Des Sciences Appliquees (INSA) France
83 INSA Toulouse (Engineering) France
84 INSA Lyon France
85 IMT NORD EUROPE France
86 IMT Mines Ales France
87 Imperial College London United Kingdom
88 IFP School (Petroleum Engineering) France
89 ICSI Toulouse (HSE) France
90 HS Kempten Germany
91 HS Darmstadt Germany
92 HS Bremerhaven Germany
93 Hochschule Furtwangen (HFU), in cooperation with the ICD Academy For Cultural Diplomacy, Berlin Germany
94 Heriot Watt University United Kingdom
95 HAW Hamburg Germany
96 Grenoble Ecole De Management France
97 GFZ German Research Center for GeoSciences Germany
98 Freie Universitat Berlin Germany
99 Fraunhofer Institute for Environmental Safety and Energy Technology Sulzbach-Rosenberg Germany
100 Forschungszentrum Jülich Germany
PDTF Scholarship Scheme: The Approved OSS Universities & Countries
Application Requirements:
Selection Committee: PTDF scholarship selected committee will assess applications based on the following criteria:
Academic merit as evidenced by the quality of degrees, full academic transcripts and other professional qualifications acquired
Relevant publications to be referenced by applicant (PhD applicants only)
Membership of professional bodies
The viability of the study/research plan.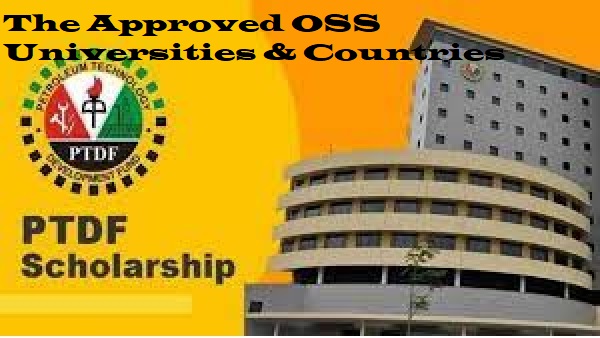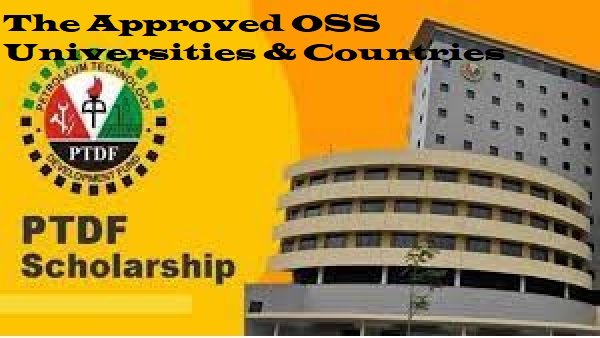 Related topics:
Visa and Traveling Information:
Finally, on PDTF Scholarship Scheme: The Approved OSS Universities & Countries, Professionalmarks.com gives comprehensive information about professional and career travels. These are part of our professional and academic conferences information on our site. Associated with these are visa information and student job opportunities internationally.