Authentic list of WAEC GCE subjects for art students- If you are studying art and plan to take the WAEC GCE exam in 2023, you should be familiar with the subjects that are required for the WAEC GCE. You will be able to properly register and prepare for them with this information. You will see the topics and other details below as you read this post.
The Science, Commercial, and Art arms for Nigeria's WAEC GCE 2023 Senior Secondary School are grouped. The primary goal of this is to prepare students for various aspects of life. From SS1 to SS3, the science arm/class teaches and trains students with a greater emphasis on various sciences. The commercial class emphasizes business more heavily in its instruction. While art students focus more on the arts and social sciences,
The West African Examination Council, or WAEC, has organized its West African Senior School Certificate Examination (WASSCE) into three distinct categories: science, business, and art. The WAEC GCE subjects that art students are required to take are listed on this page.
PROFESSIONALMARKS.COM EXAMS INFO:

Professionalmarks.com Gives you much-needed information about JAMB exams, WAEC exams, NECO exams, and GCE exams for internal and external candidates. Also, are detailed past exams questions and answers and tentative current year questions and answers to prepare for your exams. Do well to bookmark this page for other subjects.
Before looking at the art subjects for WAEC 2023, you should learn more about the West African Examination Council (WAEC).
About the West Africa Examination Council (WAEC)
The West African Examinations Council (WAEC) is a board of examinations established by law in 1952 to decide which English-speaking West African nations must take certain tests in the public interest. Additionally, it conducts examinations and issues certificates that are comparable to those issued by comparable examining authorities worldwide. The council has supported education in Anglophone West African nations.
In addition, the board established an endowment fund to provide lectures and assistance to those who cannot afford education in West Africa.
The goal of WAEC is to be a world-class examining body that enhances the educational objectives of its stakeholders. Its goal is to remain the most reputable and high-quality educational assessment organization in Africa.
Authentic list of WAEC GCE subjects for art students
Art Subjects for the WAEC GCE 2023 Exam It is critical that students taking the WAEC GCE O-level examination combine other subjects with the required WAEC subject combinations.
You only need to take five subjects to be eligible for admission to the WAEC WASSCE; however, to complete nine subjects, you need to take additional courses in both science and business.
The following are required courses for art students at WAEC:
Mathematics
English
Civic Education
Literature-in-English
History or Geography
Agricultural Science or at least one vocational subject.
After registering the above subjects, you can then pick from any of the subjects below to make it up to nine (9) subjects.
History
French
Nigerian Languages (Igbo, Yoruba or Hausa)
Music
Islamic Studies
Christian Religious Knowledge (CRK)
Dyeing & Bleaching
Photography
Painting & Decorating
Tourism
Visual Art
Catering Craft Practice
Clothing & Texture
Cosmetology
Food & Nutrition
Garment Making
Home Management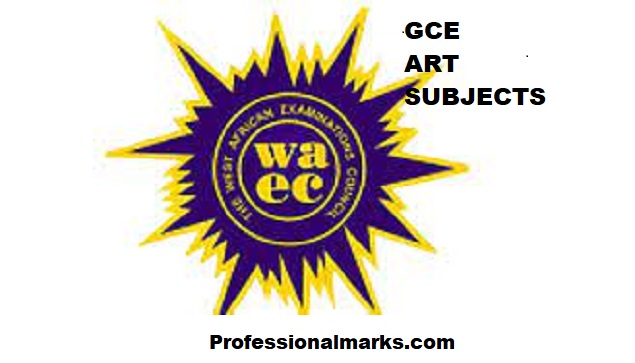 Below are the Authentic list of WAEC GCE subjects for art students
Best Subjects Combination for Art
Mathematics
English Language
Civic Education
Economics or Food and Nutrition
Literature-in-English Language
Government
CRS/IRS
Nigerian Languages (Yoruba or Igbo or Hausa)
A trade subject
READ ALSO:
CONCLUSIONS:
Finally, on Authentic list of WAEC GCE subjects for art students. We can assure you that the website mentioned above will greatly assist you in preparing for the upcoming test. Keep this page in your bookmarks for additional questions and answers that will help you read and prepare.