NECO subjects for art students & How to combine them- During NECO registration, I discovered that many candidates are confronted with the subjects they must write about in NECO. Students studying art (Mass Communication), science, and other subjects fall into this category. Please keep in mind that this article is also for NECO GCE candidates.
I also learned that some of my readers are curious about the number of subjects covered in NECO. Permit me to respond quickly to candidates in this group. The number of NECO subjects you can write is limited to six, and the maximum number is nine.
Now let's get back to the main reason we wrote this article—NECO subjects for all students. In order to help you prepare for the exam, I will suggest that you print out the syllabus for each of the subjects I will cover below.
PROFESSIONALMARKS.COM EXAMS INFO:

Professionalmarks.com Gives you much-needed information about JAMB exams, WAEC exams, NECO exams, and GCE exams for internal and external candidates. Also, are detailed past exams questions and answers and tentative current year questions and answers to prepare for your exams. Do well to bookmark this page for other subjects.
NECO subjects for art students & How to combine them
Below are the entire list of NECO subjects
Physical Education
Auto Mechanics
Woodwork
Home Management
Foods and Nutrition
Music
French
Arabic
Auto Body Repair and Spray Painting
Auto Electrical Work
Auto Mechanical Work
Air Conditioning and Refrigeration
Welding and Fabrication, Engineering Craft Practice
Electrical Installation & Maintenance Work
Radio, Television and Electronics Work
Blocklaying, Bricklaying and Concrete Work
Painting and Decoration
Plumbing and Pipe Fitting
Machine Woodworking
Carpentry and Joinery
Furniture Making
Upholstery
Catering Craft Practice
Garment Making
Clothing and Textiles
Dyeing and Bleaching
Printing Craft Practice
Cosmetology
Photography
Leather Goods, Manufacturing and Repair
GSM Maintenance and Repairs
Animal Husbandry
Mathematics
English
Physics
Chemistry
Biology
Agricultural Science
Economics
Accounting
Further Mathematics
Commerce
Literature in English
Yoruba
Hausa
Igbo
Civic Education
Government
CRS
IRS
Computer studies
Data Science
Animal Husbandry
Insurance
Electronics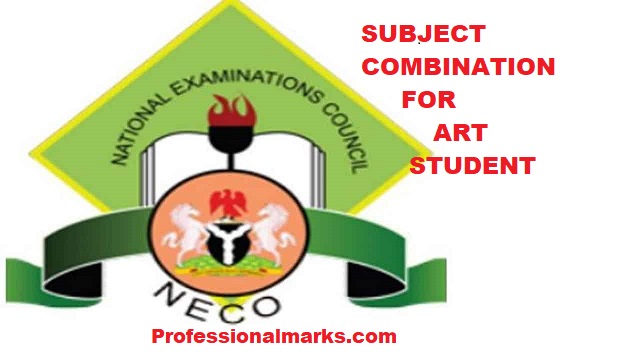 Below are the NECO subject combination for Art student
Mathematics
English Language
Economics
Literature in the English Language
Government
CRS/IRS
Civic Education
Yoruba or Igbo or Hausa
Any trade subject.
Last but not least, some students might be concerned about whether they can combine NECO and WAEC. My response is that it depends on the university you choose. However, I would recommend that you complete at least five credit passes in either NECO. You won't need to combine the results with this.
READ ALSO:
CONCLUSIONS:
Finally, on NECO subjects for art students & How to combine them. We can assure you that the website mentioned above will greatly assist you in preparing for the upcoming test. Keep this page in your bookmarks for additional questions and answers that will help you read and prepare.