WAEC subjects for art students & How to combine them- With changes to the educational system in schools, most WAEC candidates are confused most students are asking about the WAEC standard compulsory subjects that their departments should select.
Furthermore, many candidates are unable to select their nine subjects correctly.
This article will help you decide which nine subjects to study for your department's WAEC exam in 2022.
PROFESSIONALMARKS.COM EXAMS INFO:
Professionalmarks.com provides crucial information regarding internal and external candidates' JAMB, WAEC, NECO, and GCE exams. You can also get detailed past exam questions and answers as well as tentative questions and answers for the current year to help you prepare for your exams. You would be well advised to save this page to your bookmarks for future reference.
WAEC subjects for art students & How to combine them
Subjects Required by WAEC for All Candidates (General) The following general subjects are required and significant for all WAEC candidates:
English Language
Mathematics
Civic Education
Economics (optional for some candidates)
A Trade Subject
What is a subject of trade?
The obligation, curve, or instrument that is the subject of a Trade is referred to as a Trade Subject. or topic that have a lot to do with trade.
Is a trade subject a requirement for WAEC?
The West Africa Examinations Council says that your WASSCE subjects combination must include one trade subject.
What is the WAEC trade topics list? (WAEC subjects for art students & How to combine them)
The most recent list of WAEC 33 new trade topics is as follows:
Air Conditioning and Refrigeration
Animal Husbandry
Auto Body Repairs and Spray Painting
Auto Electrical Work
Auto Mechanical Work
Automobile Parts Merchandising
Block Laying, Brick Laying, and Concreting Work
Book- Keeping
Carpentry and Joinery
Catering Craft Practice
Cosmetology
Data Processing
Dyeing and Bleaching
Electrical Installation and Maintenance Works
Fisheries
Furniture Making
GSM Phone Maintenance and Repair
Garment Making
Leather Goods Manufacturing and Repairs
Machine Woodworking
Marketing
Mining
Painting and Decorating
Photography
Plumbing and Pipe Fitting
Printing Craft Practice
Radio, Television and Electronic Works
Salesmanship
Stenography
Store Keeping
Tourism
Upholstery
Welding and Fabrication Engineering Craft Practice
Note: You are only allowed to select one of these business topics. However, you must select the one that you are instructed in because your exam may include both practical and theoretical questions.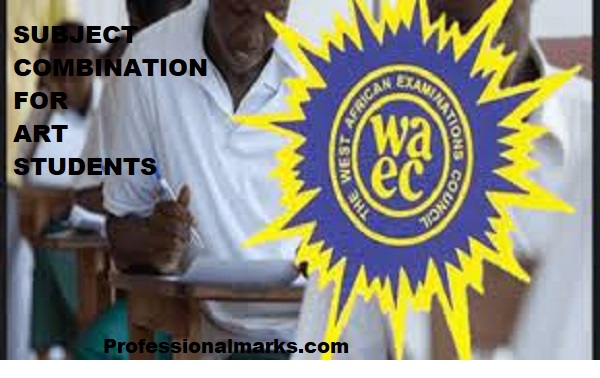 WAEC subjects for art students & How to combine them
The following should be included in your nine (9) WAEC subjects if you are an art student:
English Language
Mathematics
Civic Education
Literature in English
Government or History
Religious Studies: CRS or IRS
Yoruba/Igbo/Hausa Language
Economics
A Trade Subject

Other Art Subjects Option You Can Choose From
Agricultural Science/Biology
READ ALSO:
CONCLUSIONS:
Finally, on WAEC subjects for art students & How to combine them We can assure you that the website mentioned above will greatly assist you in preparing for the upcoming test. Keep this page in your bookmarks for additional questions and answers that will help you read and prepare.