This is How To Check NYSC Senate List Approved list – Are you a a final year graduate of our university? Do you want to know if you are enlisted for NYSC service this year? Then, we have here details of the procedure to check the NYSC Senate List Approved list for this purpose.
For this purpose, the following questions re going to be answered in this post.
How can I check my Senate approved list online?
Is NYSC 2022/2023 approved Senate list out?
Is Approved Senate list for Batch B 2023 out?
Why is my name not showing on NYSC Senate approved list?
What do I do if my name is not in the approved senate list?
How To Check NYSC Senate Approved List
Now, can you do the following as a starting point?
Visit the NYSC Matriculation Portal via: https://portal.jamb.gov.ng/efacility/checkmatriculationlist.
Then, select Your examination Year.
And, enter your JAMB Registration number as required.
Finally, click on Fetch My Details.
Can you do that? Congratulations once your names is on this list. It means you've beenmobilized for NYSC service-year. After this you can then follow the following procedure to check your name on the Senate list


Steps for checking University Senate Approved List
You've here now the process or the five steps to check if your name has beenuploaded on the NYSC Senate approved list:
STEP 1: Visit the NYSC Senate / Academic Board list portal at https://portal.nysc.org.ng/nysc2/VerifySenateLists.aspx.
STEP 2: Then, select your Institution.
STEP 3: Submit your Matriculation Number and Surname in the required columns.
And, STEP 4: And, select your date of birth.
STEP 5: Finally, click the 'SEARCH' button to access your mobilization status.
Did you find your name University Senate Approved List?
If yes, that's ok. But if not, do not worry. That might mean that your school is yet in the process of uploading candidates names. That means you have to keep on checking back. And if you have any reason for complain, please direct that to you institution without delay.
If you need  professional recruitment tips, read this.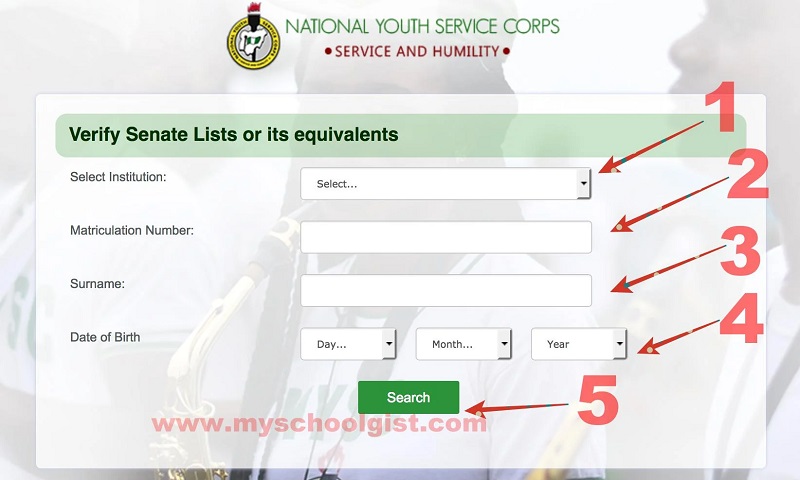 Now, if you need business and entrepreneurial solutions/matters read this
Related Topics on Senate List Approved list
You need to visit these topics on this website for more information on this subject matter.
How to locate NYSC Orientation Camps Nationwide
Summing up:
We have been able to proffer solutions to how to access the NYSC portal to uploaded senate approved list.
Highlighted also are how to check NYSC graduation list and list of institutions whose senate list is out for 2022/2023
NYSC service year. Here also is how to check UNIPORT , UNILAG, UNN, ABU and UNIBEN NYSC senate approved list. In fact, this is all you need to do to check NYSC graduation list 2022/23.
You can get inspirations here.
Finally, because we update out posts regularly profssionalmarks.com advises you bookmark this post for your future referencing. And, before we go, did you check on our other relevant related topics for cross referencing too? Then, help us share this topic to reach your friends.