Ways Of Official Redeploying In NYSC – while in the orientation camp, you can officially relocate on 4 grounds to any state of your choice. Important documents include the NYSC redeployment letter and Medical report for NYSC redeployment. Get this thing clear. The difference between relocation and redeployment.
Therefore before deciding on any of them consider the disadvantages of NYSC relocation and good reasons for NYSC redeployment. Then check out NYSC relocation and allowance, NYSC redeployment after camp, and NYSC redeployment after 3 months
Professionalmarks.com NYSC info:
Professionalmarks.com provides you with every detail about NYSC online registration, redeployment, and requirements. We also answer other questions like; what the NYSC book of life contains and other relevant questions.
Grounds for redeployment:
Below are the official ways in which a cop member can redeploy to any State of his or her choice.
Ways Of Official Redeploying In NYSC
Marital Ground:
If you are married and can provide all the important documents, you will be relocated to any State of your choice mostly where your husband resides.
This Document includes:
Photocopy of Husband's ID card.
Ways Of Official Redeploying In NYSC
Insecurity Ground:
If you are posted to a State like Yobe, Brono, you are free to relocate on the ground of insecurity to the State were you safe and secure. But these States are off Abuja, Lagos, and your State of Origin.
Health Ground:
If you are suffering from a particular sickness, NYSC will relocate you for free to your State of choice or a much closer State. However, you need your medical report and you will have to pass through an interview. You will also have to write a letter in other to get a documented medical report that will pass any camp screening and that will give you a better chance of redeployment.
DG Directive:
This is the best way of redeploying to any State of your choice including Lagos, Abuja, and other states. You will send your details to them and they will process your relocation direct from the headquarters of Abuja.
Ways Of Official Redeploying In NYSC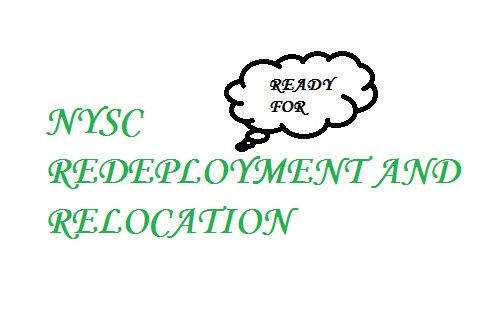 Read More:
Finally, Ways Of Official Redeploying In NYSC
Ways Of Official Redeploying In NYSC – It is easy to redeploy when you have these 4 grounds and the necessary documents to do that. You can Bookmark this page and also drop your comment in the comment box for more clarifications.