NGO scholarship in Nigeria: This is how apply- NGO scholarship in Nigeria: This is how to apply- Standardized test fees, a predetermined number of graduate school application fees, end-to-end mentoring, and opportunities for professional networking are all part of the scholarship's value.
The i-Scholar Initiative is a non-profit organization that provides access to fully funded scholarships to world-class foreign universities to mentor and empower young African students in their pursuit of graduate education.
Numerous Nigerian graduates have received scholarships and mentorship from the organization since its inception in 2019, many of whom are currently enrolled in international graduate schools.
To be eligible to apply for admission during the 2023/24 application window, interested applicants must have graduated from an accredited Nigerian institution with a second-class or higher grade. Read more about NGO scholarships in Nigeria: This is how to apply
In addition, they must be prepared to take the standardized tests by August 2023, according to the statement.
In addition, interested applicants will be required to submit a personal statement of 500 words, a CV or resume, an examination study plan, two letters of recommendation, a transcript of their first degree, and a certificate or statement of result for their first degree in their iSI applications.
PROFESSIONALMARKS.COM SCHOLARSHIP INFO:
For individuals looking for scholarship opportunities, there are numerous NGOs in Nigeria. The opportunity's goal is to assist students or business owners who can't afford to pay for their studies and help them realize their desire of going to school. Professionalmarks.com and its staff are here to assist you and keep you informed because of this. Get an NGO scholarship in Nigeria: This is how to apply.
ProfessionalMarks.com is an esteemed online platform dedicated to supporting and promoting academic excellence among students. In line with this mission, ProfessionalMarks.com offers comprehensive scholarship program tips aimed at assisting students in pursuing their educational goals and advancing their professional careers.
NGO scholarship in Nigeria: This is how to apply
Allex Otti Foundation Scholarship
This NGO Scholarship will be given out based on a strong academic record, leadership potential, and a demonstrated desire to use the knowledge they've gained to help improve society. Winners should use their skills and knowledge to improve the lives of others after they finish their education. The recipients of the Foundation's scholarships are anticipated to develop a robust network of leaders over time who will, both individually and collectively, contribute to the improvement of Abia State and Nigeria as a whole.
Eligibility:
Students in their second year (200 level) at any Nigerian tertiary institution owned by the government.
For universities (or other tertiary institutions' equivalent), the candidate must have earned a CGPA of at least 3.5 in their first academic year (First Year).
Orji Uzor Kalu Foundation
In collaboration with the Venezuelan Embassy in Abuja, the Foundation, which has a strong interest in education and health, previously announced scholarships for fifty undergraduate students to study medicine at Latino American Medicine School in Venezuela.
Eligibility
Requires good grades on the West African Examination Council (WAEC) or National Examinations Council (NECO)
and must be an undergraduate who wishes to attend the university in the 2023/24 academic year. A' grades in Science, physical science, and Science are added advantage
Ought to be a resident of Nigeria – NGO scholarship in Nigeria: This is how to apply
Ought to assume the liability of acquiring affirmation in any of the chosen colleges. If the student applies, the Foundation will pay for the JAMB and POST-UME, and it will expect the student to send the Foundation his or her admission letter if any universities shortlist him or her. The admissions process will not be influenced in any way by the Foundation.
The Foundation supports academic excellence and thinks that students who receive "A" grades in all three major science subjects will do exceptionally well on the JAMB and complete all seven years of medical school.
NGO scholarship in Nigeria: This is how to apply
Bishop Oyedepo Scholarship
Students who want to earn a first degree from either Covenant University or Landmark University are eligible for the DOF NGO scholarship. Before applying for the scholarship, applicants must be African, a permanent resident of an African nation, and eligible for admission to any of the universities.
Eligibility: NGO scholarship in Nigeria: This is how to apply
Are citizens and permanent residents of any African nation;
at the time of application, are between the ages of 18 and 25;
are capable of speaking, reading, and writing in English;
have a track record of exceptional secondary school performance.
Jim Ovia Foundation Leaders Scholarship
The Jim Ovia Foundation and the Africa-America Institute have joined forces to create the Leaders Scholarship, which aims to train future leaders of Africa. The Jim Ovia Foundation and the Africa-America Institute have collaborated on the Scholarship to train young Africans to lead the continent.
Eligibility – NGO scholarship in Nigeria: This is how to apply
The applicant must be a resident of Africa and a citizen of an African nation;
Show solid scholastic record and inclination for high accomplishment;
Show a Monetary Need;
Provide evidence of active youth leaders in the community.
NGO scholarship in Nigeria: This is how to apply
The MTN Grant Plan is a yearly grant that tries to perceive and remunerate qualified high-performing understudies. It consists of the MTN Science and Technology Scholarship Scheme and the MTN Scholarship Scheme for Blind Students (MTN STSS). The Youth Empowerment Cause's two scholarships are currently in their ninth and seventh phases, respectively.
Eligibility:
Scholarships will be renewed for current students who have maintained a minimum Cumulative Grade Point Average (CGPA) of 3.5 or its equivalent (second class upper/upper credit).
Third-year students from public tertiary institutions with a CGPA of 3.5 or its equivalent. Second-year upper HND students with a minimum of 3.0 GPA (Upper credit) in their OND Programme.
Blind students in their second or third year of study in any topic with a minimum CCPA of 2.5 or its equivalent are eligible for the SBSS.
This NGO grant upholds Guinness Nigeria's obligation to carry out groundbreaking plans that cultivate youth improvement.
Students enrolled in Nigerian universities and polytechnics will receive the scholarship, which will cover their entire costs. We encourage students from our host communities to apply.
Eligibility – NGO scholarship in Nigeria: This is how to apply
Students enrolled in the following courses are eligible to apply: Mechanical, electrical, chemical, lab science, microbiology, biochemistry, marketing and sales, human resources/industrial & labor relations, and accounting are all examples of engineering and sciences.
Students in their first or second year at universities or polytechnics in Nigeria re required to apply.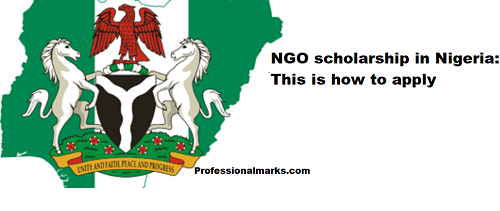 Students who demonstrate financial need and demonstrate that they are full-time students enrolled in a STEM-related course at an African university are eligible for WAAW Foundation scholarships. The recipients must establish a STEM Outreach Chapter at their university.
Eligibility:
Female African-American students living and studying in Africa are eligible.
As of now signed up for an undergrad B.S. degree program.
pursuing STEM-related coursework at an African university or college.
Excellent academic record with evidence of financial need.
demonstrated leadership, volunteerism, and community service
under the age of 32.
The application is only open to first- and second-year students. Furthermore understudies in their third year if concentrating on a five-year course.
READ MORE: NGO scholarship in Nigeria: This is how to apply
SUMMING UP: NGO scholarship in Nigeria: This is how to apply
These scholarships are offered by nonprofit organizations, and in this post, you will find a list of the best NGO Scholarships in Nigeria, together with information on each one's prerequisites, application procedure, and direct application links. Thus, we urge you to read it carefully, save this page for future reference, and keep in touch with us.
If you are a Nigerian student looking to pursue higher education but facing financial constraints, scholarships offered by non-governmental organizations (NGOs) can provide a valuable opportunity. These scholarships aim to support deserving students who lack the necessary financial resources to pursue their academic dreams. In this guide, we will walk you through the step-by-step process of applying for NGO scholarships in Nigeria. By following these guidelines, you can increase your chances of securing a scholarship and turning your educational aspirations into a reality.