Why is career development planning important?- If someone asked you where you want to be in your career in five, ten, or fifteen years, would you have a ready response or would you stutter?
If you have a professional plan, the responses will not be fantastical. However, if you don't, you'll stutter, and this article is for you. As important as having a career is having a plan for it. Instead of just showing up to work each day without a plan and going through the same routine, it's important to make preparations for the future.
"Career planning is a process of systematically matching career goals and individual capabilities with opportunities for their fulfillment," according to Schermerhorn, Hunt, and Osborn.
It's more about getting ready for the future and having what you need to get through this journey. The primary objective is to provide you with a road map for the future that will assist you in making well-informed decisions regarding your career and any upcoming moves in your career. You'll be able to stay focused and motivated with a solid career plan.
PROFESSIONALMARKS.COM CAREER TIPS:
Do you know that the crew at Professionalmarks.com wants to collaborate with the best individuals to help them transform their passions, competencies, and innate abilities into meaningful careers and lives that are worth living? Every person should have the freedom to select a profession and a topic of study that would best position them for long-term success, according to Professionalmarks.com. Never let luck or chance to determine your career. Making decisions based on available facts is the best approach. You can save this page as a favorite for more details.
Why is career development planning important?

Below are some reasons why a career development plan is important.
You won't get stuck in a rut if you have a career development plan.
The days when promotions at work were based solely on tenure re long gone. If you let yourself get used to doing only the things you were trained to do when you were hired. You might as well decide that you will work too much and get paid too little for the rest of your life.
Worse still, the system rigged in such a way that, despite your loyalty. You could be let go at any time, and someone with better entry-level skills would paid less to do your job faster. If you don't have a clear career plan, you might end up taking the slow and painful path to a career that doesn't give you what you want.
Don't think so? Take a look around. Find one or two people in your organization who have been doing the same thing for a long time and re generally considered on the path to "moving in circles." You might not instantly recognize the person unless you look attentively.
He might be the driver, building superintendent, and superman who never seems to learn how to control his rage. You feel sorry for him because it seems unfair that management has overlooked him and not given him a chance to grow. He is trustworthy, but each year he becomes more resentful and sad.
Furthermore,
You may likewise perceive your up-and-comer as an energetic yet useless clerical specialist. She grins as she buffs her nails and merrily visits her companions on the telephone for around 50% of the day. Although she doesn't appear to be concerned about not expanding her skills right now. The question remains: Will her two boyfriends always pay her bills?
at work, there re many different kind of people who get stuck in a rut. They all share one thing in common: they have taken their professional growth for granted. Try not to be one of those.
A professional improvement plan will assist you with getting a sense of ownership of your shortcomings
Whether we might want to just own it. Everybody around us knows precisely how well or how ineffectively we're accomplishing work. Our coworkers are well aware of all the minor flaws that we have discretely and conveniently minimized in our minds.
Two or more times a week, you might be a little late to work. You've gotten propensity for mishandling your lunch break, requesting that a companion cover for you. You may occasionally snooze at meetings or your desk. Maybe you're a chief who knows less about your work than your staff. Fortunately, you don't know how to write month-end reports, so your coworkers lend a hand.
You may be able to get away with it now, but nobody will believe you. Even if you're a sweet and well-liked person, ignoring those little quirks now could lead to career suicide later. You could cross some unacceptable individuals, and they could blame everything on you in reprisal. There may be a change in management. The business might begin to punish inefficiency. Your minor flaws may suddenly viewed as major areas of underperformance without prior notice.
Most likely, you are reacting defensively and thinking: I can still do better, but I don't let that stop me. Why engage in this risky game of cat and mouse with yourself? You might lose sooner or later if you don't constantly look for areas of improvement and work on getting better at what you do.
Your future career path can be better defined with the help of a career development plan.
As Socrates said, a life without examination is not worth living. The unplanned career, in my opinion, is pointless.
In his short book, "The Go-Giver," Bob Burg outlines three universal motivations for working: get by, save, and serve. Meeting our basic needs and having enough time and money to enjoy life is related to survival and saving. Making a significant contribution to the world around us is the essence of service. The majority of people never find a way to achieve a sense of purpose in their work because they get stuck in the first two stages.
We miss out on the chance to direct our careers in a significant direction. If we don't make it a habit to set and achieve clear goals. Do you want to wake up one day and realize that instead of making a difference. You plodded through the day at a job you detested? You don't.
When you create a plan for your career development, you will have the opportunity to gradually evaluate not only the tasks that you do well but also the aspects of your work that bring joy and meaning to you.
You can take control of your development with the help of a career development plan.
Taking the time and train to make a profession improvement plan for yourself compels us to be responsible. We begin to accept responsibility for our actions and reactions rather than blaming external factors for every negative turn at work.
You will regain control by developing a strategy for your professional development. Also, You won't be able to excuse yourself for being late because of traffic. Instead, you'll be able to admit that you stayed up too late watching TV and didn't pick out your clothes or set up your kids for the day. You can get the computer training you need by enrolling afternoon classes. Putting yourself in a better position to get the promotion you want rather than being turned down for it because you lacked the necessary skills.
A vocational improvement plan will give you the certainty you want to succeed.
You will have ownership over all aspects of your career if you have a career development plan.
Furthermore, You will start to know everything there is to know about your assets and shortcomings. You will establish attainable plans to achieve meaningful goals. Also, You will have a clear idea of what you want to accomplish and how far you have come already. You will find that each day you go to work with a sense of purpose. It will appear as though a new drive for your work appears out of thin air.
You won't have to struggle to list your accomplishments or strengths when it comes time for your performance review. You will want to get ready for appraisal and advancement gatherings unhesitatingly. Also, You won't get choked up when you think about going on a job interview and you'll able to easily update your resume.
You will be well on your way to success if you develop and implement a strategy for your career development.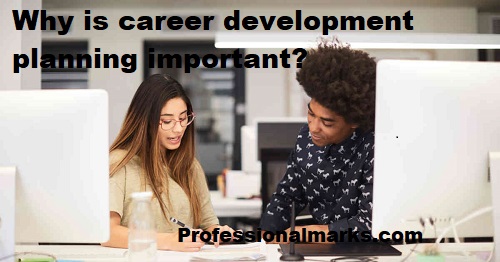 Why is career development planning important?
A vocational plan upheld with speculation distributions and investment funds will make your retirement life simple. You'll have the option to think back with grins and partake in the awards of your work.
The excursion of a fantasy vocation is certainly not a smooth one. You'll experience impediments or hitches to a great extent, however with a professional plan, you can be guaranteed a smooth section that will find you your truly amazing line of work and give you the satisfaction and vocational joy you long for. You can never turn out badly by having a professional plan that assists you with knowing what your identity is, what you need, and how to arrive.
With these tremendous changes in the realm of work, your associations and your kin need to zero in on development. And drive individualized advancement to remain current. We want to quit thinking in our former ways of building unbending vocation systems and proposing that workers follow a direct pathway that will in all likelihood become obsolete before the representatives arrive. All things considered, you are liable for empowering your immediate reports to master applicable abilities and guarantee continuous discussions about movement and execution. It's fundamental to check what representatives go for the gold they track to arrive.
At long last, given the significance of vocation advancement, it is basic to assess how much representatives accept they are progressing and getting effective training from their chiefs. By directing ordinary commitment overviews, you can decide how well your way to deal with advancement and training is working and where you can zero in on progress.
READ ALSO:
CONCLUSION:
Everything you need to know On Why is career development planning important? can be found above. Professionalmarks.com makes it simple to get assistant. keep in contact with us for more information. Besides, bookmark this page for some other time. After that, contact us on social media to learn more about businesses, education, and professions.